Jelly Bean Mini Noodle Box
Author: Karen Burgess Date Posted:18 September 2017
Looking for a novel way to promote your brand. Check out these jelly bean noodle boxes. Add a sticker in any design to say thank you or add your logo. Why not personalise in your brand colour. The possiblities are endless. Talk to us for ideas and help in designing your very own promo box of jelly beans for your next function or expo.
​PRICE GUIDE
#LL3155 Corporate/Team Colour/Assorted Colour Mini Jelly Beans in Clear Noodle Box
​190grams of Corporate Colour or Assorted Colour Mini Jelly Beans packed in a clear mini Noodle Box. Your choice of jellybeans, choose from 9 great colours and flavours - Orange (Orange, Pink (Raspberry), White (Lychee), Red (Strawberry), Green (Apple), Yellow (Lemon), Black (Aniseed), Purple (Grape), Blue (Blueberry).
Material: PET
Colour/s: Clear/Corporate Colour
Minimum quantity: 100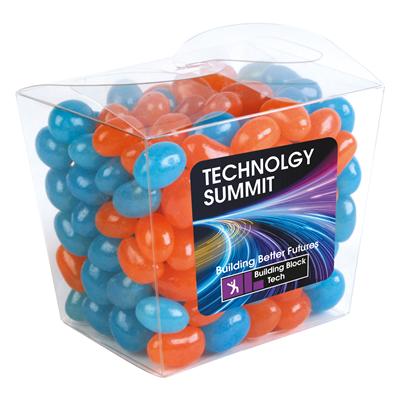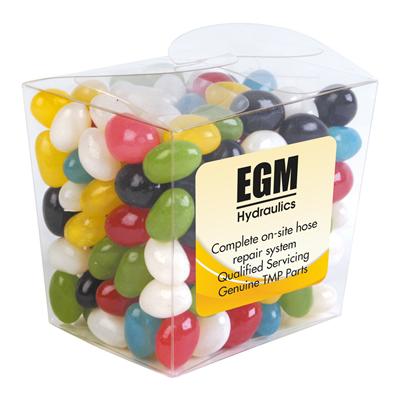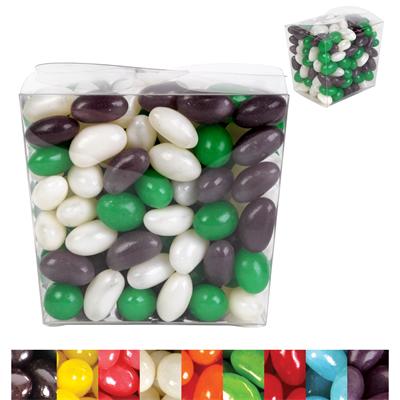 ​4CP Standard Label
​Front - Circle 45mm diameter
​Front - Square 50mmL x 50mmH
100+ $3.02 each excluding GST and set-up fee
250+ $2.94 each excluding GSTand set-up fee
​500+ $2.87 each excluding GSTand set-up fee
​4CP Delux Die Cut Label
​Front - Top cut to any shape (maximum size of 30mmL x 30mmH with wrap around band 15mmL x 170mmH)
100+ $4.43 each excluding GST and set-up fee
250+ $4.35 each excluding GSTand set-up fee
​500+ $4.28 each excluding GSTand set-up fee

Set-up Fee: $51 excluding GST
If you have any queries please feel free to contact us
Please note: All orders require payment in full to proceed.
Should you except this quote, please advise us via email that you wish to proceed and we will send through a tax invoice for payment.
3 week turnaround for printing on apparel unless agreed prior to ordering.
Conditions of Quote:- All prices include 10% GST. Quote is valid for 30 days from date quoted at the top of this page. *All prices included set-up costs when decoration is required, unless otherwise specified. *Upon receipt of order, delivery dates will be confirmed as each item may differ. *Any changes to the artwork will delay printing if payment has been received. *All prices are based on the quantities and artwork details as specified. *Any changes to these details will affect the prices.
*FREIGHT CHARGES WILL BE CALCULATED AT COMPLETION OF ORDER.
---
Leave a comment